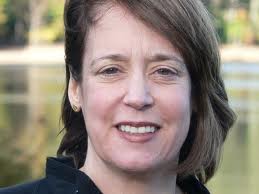 Betsy West
Associate Professor, Professional Practice, Columbia School of Journalism; Executive Producer,MAKERS: Women Who Make America
Betsy West is an associate professor at Columbia University's Graduate School of Journalism and executive producer of MAKERS: Women Who Make America, the online video archivewww.makers.com and PBS documentary about the women's movement that aired nationwide in February, 2013.
Betsy began her career at ABC News where her work as co-creator and executive producer of Turning Point and senior producer at Nightline earned her 21 Emmy Awards and two duPont-Columbia Awards. As senior vice president at CBS News from 1998-2005, she oversaw 60 Minutes and 48 Hours and was executive-in-charge of the PrimeTime Emmy award-winning documentary 9/11. She joined Storyville Films in 2006, where she co-produced Oren Jacoby's theatrical documentary Constantine's Sword and is currently producing The Lavender Scare, a filmabout the origins of the gay rights movement.