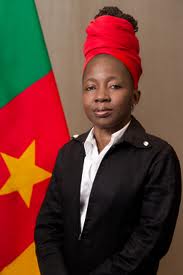 Kah Walla (Yale World Fellow)
Entrepreneur, Activist and Elected Official of Cameroon
Kah Walla is an entrepreneur, activist and elected official from Cameroon. She is recognized internationally for her expertise in management and for her commitment to Africa, development, women and youth.
On October 9, 2011, Kah Walla ran as a candidate for the presidency of Cameroon. In a country which has only known two presidents in the last 50 years, her The Time is Now! Campaign was groundbreaking for the Cameroon political scene. Kah Walla is today one of Cameroon's foremost political leaders and is often cited as an example of a new generation of leadership throughout Africa.
As an entrepreneur, Kah launched STRATEGIES! seventeen years ago. This African firm offers consulting services in leadership and management, meeting the highest standards of the international market. STRATEGIES! serves multinational firms as well as international development organizations. Kah is a board member of the World Entrepreneurship Forum, and in 2008, she was one of seven women entrepreneurs in Africa profiled in the report, Doing Business: Women in Africa, released as part of a joint effort between the Doing Business project and the World Bank's Gender Action Plan.
For 25 years, Kah has focused on good governance, the rights of women and youth and the rule of law. She has worked with civil society in Cameroon and throughout Africa, developing policies and projects at international, national and local levels with farmers, traders, motorbike drivers, persons with disabilities, fishermen, student associations and governments.
In 2007, she campaigned and was elected to the Douala City Council. Her political leadership is known for its focus on transparency and sound budget management. In 2008, she stood up against a constitutional amendment designed to eliminate presidential term limits. She has also played a key role in advocating for overhauling the independent electoral commission. In 2009, Kah created Cameroon Ô'Bosso, a citizen movement to register voters and advocate for 11 separate criteria of electoral reform.