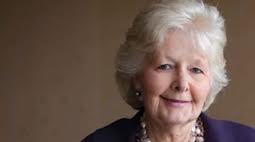 Margaret H. Marshall '76 JD, '12 LLDH
Senior Counsel, Choate Hall & Stewart, LLP; Senior Research Fellow and Lecturer, Harvard Law School; Former Chief Justice of the Supreme Judicial Court of Massachusetts; Fellow, Yale Corporation
Margaret H. Marshall is Senior Counsel, Choate Hall & Stewart, LLP, and a Senior Research Fellow and Lecturer at the Harvard Law School. Until her retirement in December 2010, she was the Chief Justice of the Supreme Judicial Court of Massachusetts.
Born and educated in South Africa, she earned a B.A. from the University of the Witwatersrand in Johannesburg and a master's degree in education from Harvard University. After graduating from Yale Law School, she practiced law for sixteen years in Boston, becoming a partner at Choate Hall & Stewart, before her appointment as Vice President and General Counsel of Harvard University in1992.
She was appointed to the Supreme Judicial Court in 1996 and appointed Chief Justice in 1999, the first woman to hold that position. During her fourteen years on the Court, Chief Justice Marshall wrote more than 300 opinions, many of them groundbreaking, including the 2003 decision inGoodridge v. Department of Public Health, which declared that the Massachusetts Constitution prohibits the state from denying same-sex couples access to civil marriage. The ruling made Massachusetts the first state to legalize gay marriage. Her tenure as Chief Justice was marked by her many efforts to improve the administration of justice, making the Massachusetts judiciary more transparent, efficient and accountable, as well as improving access to justice throughout the court system.
Chief Justice Marshall served as an Alumni Fellow of the Yale Corporation from 2004 to 2010; she was appointed a Successor Fellow in September 2012. She is a member of the Council of the American Law Institute, a Fellow of the American Academy of Arts and Sciences and a member of the Committee on Science, Technology and Law of the National Academy of Sciences. The recipient of numerous professional awards, she received an honorary Doctor of Laws from Yale in 2012.